propinquitine
Thank you to everyone for the birthday wishes! I had a lovely couple of days back home with family and friends, and several excellent meals, including one at this fantastic little wine & cheese & chocolate & beer-tasting restaurant in Philly. Total hole-in-the-wall type place, but with the best cheese selection I've seen since I was last in France, which was, oh man, 6 1/2 years ago now.

winkingstar
, scratch my demand for imported chocolate, and bring me back some proper
chèvre
!
To show that I'm not quite so greedy as my last comment would indicate, I wanted to share the omgsodarling chibis that

chkc
drew for me!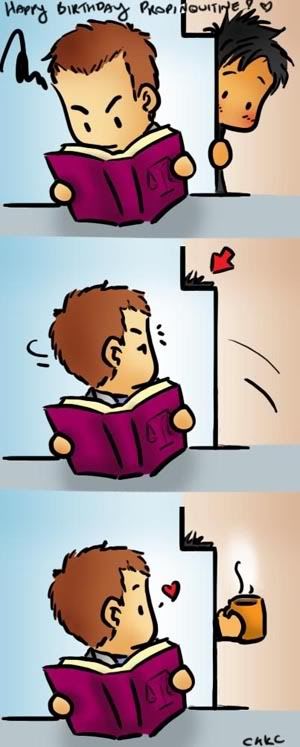 Isn't it brilliant? Everything about this is exactly right: the angry eyebrows while staring at law books, the suspicious glare aimed at anyone who dares interrupt, the total adoration for coffee (and John). And now I'm pondering what possible reasons Rodney might have for studying for some kind of legal examination, hmmm . . . .